Five day Innermakeover Retreat at Little Forest
All retreats include Pain Control Hypnosis and Hypnotic Weight Loss Surgery Hypnosis Sessions
Transform yourself at a five-day Innermakeover retreat at Little Forest

"You arrive with a problem and go home a different person."
The five-day Innermakeover Weekend includes:
Five days of Meditation and Self Hypnosis
Physical, mental and emotional pain sessions
Healthy eating and portion control sessions
This is the perfect retreat to help you; control pain, overcome weight problems, de-stress, stop smoking, and get healthy.
Your package includes:
 Accommodation at Little Forest Lifestyle Retreat and meals
 All hypnosis and therapy sessions
 Transfers from Sydney airport if flying in or needed
Recharge your batteries, reset your mind
Watch this video to hear from retreat attendees
You will benefit by attending a retreat if you:
Suffer from chronic pain
Struggle with your weight
Have emotional baggage
Lack motivation or need a mental break
No matter who you are, no matter where you come from, you absolutely, positively have the power to dramatically change the way you look and feel.
"Saturday night at the retreat was the first time in 7 years that I have slept through the pain of a shattered right foot. The whole weekend at Little Forest brought me relief and a positive attitude to go on and control the pain by listening to the hypnosis sessions. I can't thank you both enough."
Tonia-Anne Gray
How much?
Share room $1,995 (per person)
Single room $2,995  
Seating is limited for all retreats so confirm your space before the retreat you would like to attend fills.
Call now on 1300 760 073 to book a retreat
This four night, five day retreat is a rare opportunity to learn how to direct your own internal healing power. You will learn the ancient internal healing secrets of Japanese, Chinese and Tibetan Masters. You will learn how to release harmful thoughts and negative emotions. If you are ready to detox your mind and body then reserve your space.
Continue reading…

Can I be hypnotised?
If you can sit back or lie down, close your eyes and listen, you can be hypnotized. Some people go into hypnosis very quickly and others take longer. Everybody is different so you learn how to do this at your own pace.
What we cover
You will learn how to use your mind power to reduce stress, control pain, relieve anxiety, improve sleep, improve mood, release excess weight, enhance quality of life and reduce the need for opioid medications.
You will learn a unique combination of:
Specific meditations
Tried and tested hypnosis techniques
Healing breathing exercises
Various therapeutic methods
How to release harmful thoughts and negative emotions
It is the combination of these techniques that helps to reduce the stress hormones in the body and release the body's natural feel good chemicals and painkillers such as; endorphins, serotonin and dopamine. When you do this you can change; pain levels, sleep patterns and even emotional eating. And when you do this you feel a whole lot happier.
PAIN
Clinical trials have shown that hypnotherapy treatment is an effective tool for reducing chronic pain levels. Types of pain where hypnosis can help include: headaches and migraine, back, neck and shoulder pain, Complex Regional Pain Syndrome (CRPS), post-operative pain, arthritis, sports injuries, dental pain and fibromyalgia.
WEIGHT LOSS
Bestselling author of Think Slim Mark Stephens, will guide you every step of the way, helping you to control what you put in your mouth and your mind.
"I am truly happy for the first time in a long time. I am smiling from the inside out. "
"Mark and Linda, I thank you from the bottom of my heart. I have found the new me. It was amazing."
LITTLE FOREST LIFESTYLE RETREATS
All retreats at  Little Forest  includes:
All meals and accommodation
Hypnosis and therapy sessions from morning till night.
Airport Transfers. For Interstate travelers mini bus transfers to and from Sydney domestic airport are inclusive. The mini bus departs Sydney at 9am on day one and on the final day arrives back at the airport at approximately 5.30pm. Best to book return flights after 6 PM. Please plan to arrive early to the airport on day one of the retreat as the bus leaves the airport at 9 AM sharp.
Meals The retreat offers a variety of healthy plant-based meals while catering to allergies or food preferences. All food and juices are organic. You will also enjoy a variety of super healthy juices and smoothies. Activities In your free time you can do as little or as much as you like. You can go for rainforest walks, play tennis exercise in the fully equipped gym or just sit under a tree and do nothing. This is time out for you.
The information below relates to retreats run at Little Forest. No accommodation is provided for other retreats
Escape the ordinary in a place like no other!
Breathtaking views of mountains, valleys and the ocean
8ks drive to picturesque historic Milton
14 acres of scenic preservation property
5 acres of rainforest walk
Full size tennis court on property
Function room with a wood fire place
Fully equipped gymnasium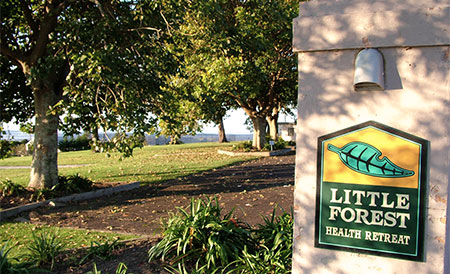 P Property Description Located a short 2.5 hours south of Sydney the views from this spectacular property are worth the visit alone. Little Forest Lifestyle Retreat sits 1,000 feet above sea level on a rolling hill. Surrounded by valleys, mountains, escarpment and ocean views as far as the eye can see visitors have described the property as "Heaven on Earth" or "Shangrila." This 14 acres of paradise is classed as Scenic Preservation Property. The 5 acres of private rainforest is a natural wonderland and home to many Australian fauna including; wombats, wallabies, lyrebirds and echidnas. Accommodation and Facilities 13 well appointed motel rooms are made up with linen, have ensuite bathrooms, reverse cycle air-conditioning, tea making facilities, bar fridge and ground floor access.
Accommodation and Facilities
13 well appointed motel rooms are made up with linen, have ensuite bathrooms, reverse cycle air-conditioning, tea making facilities, bar fridge and ground floor access.

Getting your mindset right At every retreat we cover a wide range of therapies and methods including;
Meditation and hypnosis
Yoga breathing and relaxation
Guided imagery and visualisation
Tai Chi and Qi Gong – moving meditation
Motivation and goal setting
What is meditation? 
Derived from the Latin meditari, meaning to contemplate or "exercise the mind."
Meditation is a simple, practical and scientifically proven method to reduce stress, anxiety, depression and pain.
Meditation is a relaxed focus and a way to calm the mind. It is the science of letting go.
Meditation teaches us to be still and a way to return to our calm self.
It is an inner holiday that helps us heal our mind and body.
What is hypnosis? Hypnosis is a state of relaxation which has no side effects. When in the hypnotic trance like state you have; heightened suggestibility, focused attention and increased awareness. You are not asleep but you might feel sleepy.  Positive suggestions or visualisation techniques are used during the relaxed state. This helps you to overcome specific problems or challenges. As far back as 1892 the British Medical Association approved hypnosis as a genuine therapeutic agent "frequently effective in relieving pain, procuring sleep, and alleviating many functional ailments. In the early 1900s a French pharmacist named Emile Coue discovered the power of autosuggestion. He's accredited with the famous affirmation, "Every day, in every way, I am getting better and better." It was Coue who discovered that it was the suggestion being accepted by the mind of the subject rather than the actual suggestion given by the hypnotist, which achieved results. He attested that negative thinking patterns could worsen an illness. The healing power of hypnosis was used for pain control during World War 1, World War II and the Korean War.  Some prisoner of war hospitals used hypnosis as a substitute for chemical anaesthesia to assist with pain relief and to assist in recovery of Post-Traumatic Stress Disorder. Hypnosis can help you overcome challenges, improve study, conquer phobias, sleep better, relieve pain, stop smoking and of course shed the kilos. Some of the greatest athletes in history have used sports hypnosis to take them to the highest level. The important thing to remember is, all hypnosis is self-hypnosis.